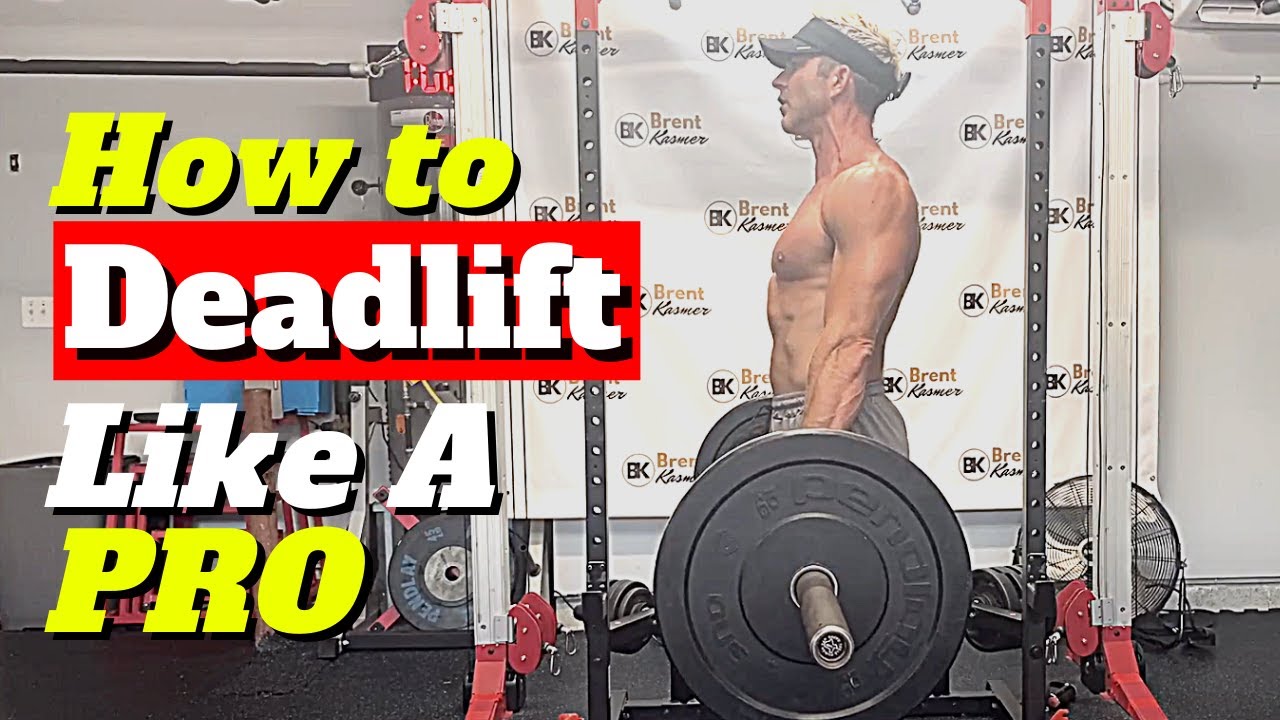 What's up my fitness family?
Would you like to know how to add up to 50 pounds to your deadlift weekly?
Well, guess what?
I'm going to teach you how to deadlift like a pro and add up to 50 pounds on your lift weekly.
But I'm gonna keep this short, sweet, and simple.
There are only four exercises that are going to help put the 50 pounds on your deadlift every single week, I promise you this. I've done this with hundreds and hundreds of clients, football players, a lot of them being athletes.
But guess what?
I've used this stuff on myself.
I like to think that it's you know, for old men, too, just kidding.
There are four exercises, you need to know what each one of the exercises five reps, max it.
At the end of this, you're going to find out the key two factors, why and how to put the muscle on.
Obviously, you got to eat right, no matter how much you lift. And what you do in the weight room is always affected by how you eat. Eating is how you perform, it's how you heal.
The first lift that you're going to do is called a high pull. 
A high pull, you're gonna grab the bar, it's almost kind of like an upright row.
When you do an upright row, it's nice high elbows, except it's a full movement.
Alright, so full movement, meaning, when you pick the bar up, you're gonna squat down and explode from here, right up to your chin.
Do that for five repetitions.
You need to know what your five rep max is for that so that way you can drop it all the way down nice and low, cuz you're going to work your way up to that five rep max, you're gonna be doing five sets.
In between each one of the five sets, you're gonna be doing a broad jump, or a long jump. So if you know what a broad jump long jump is, there, the same thing, just keep different words. But you're gonna start off in a squatted position. And you're going to launch as far as you can see, when you get a full squat, and jump as far as you can, landing nice and soft. Alright, you're gonna do five of those. You're gonna add 20% onto the bar. All right, so you're gonna take your five rep max 20% less, 20% less, 20% less, 20% less. So that way, when your first exercise, you want to be nice and light and incrementally increase to get to that five rep max, which will be your last set. Does that make sense? If not, go back, rewind and watch it again. So but yeah, questions, always ask me in the comments. So we can explain it in greater detail to you. Because I always want you to understand it. Cuz there's no reason not to put 50 pounds on weekly. So I mean, this helps people all the time. Alright. Once you get done with those five sets, we're going to go into a mid pull. So mid pull is wider hand grip. So this is like your deadlift grip, so nice grip. And it's same thing. So obviously, you have a high pull, right? What do you think a mid pull is, this one's going to be around the stomach area. So belly button, and sternum.
So same thing. So what happens is when you finish your high pulls, so you get to your last five reps to your max out. And that's going to be the starting weight for your mid pulls. All right, so mid pulls starting weight is the last set for your high pulls. And then you're going to go in a incremental difference to your max weight. So you know your max weight? You know what your mid pull is, or any of your high pull is and you kind of just make sure you break apart the differences in between it. So that way you can get to that end result. Those lifts are not our main important like they're there to help you kind of get good and warmed up going into our deadlift, which is our meat and potatoes. And then also the exercise there right after. So with the mid pulls, you're going to go ahead right into the long jumps, aka broad jumps also. So this gives you that ballistic movement, you're firing from your hips, cores, waist, knees, ankles, you know, and you're getting that nice huge launch in, I always recommend setting up two lines. And you can do it with either jump ropes, resistance bands, something, tape, whatever you want to put on the floor and jump over a mat, you're jumping next to a mat, something to give you that incremental idea so that you're not lazy with it, you will make sure you're always improving on all of these lifts. Okay. So, as you can imagine, five sets five repetitions, working all the way up to your five rep max for your mid pull. The third exercise is your deadlift, this is the meat and potatoes. Okay, this is where you want to make sure your strength is dead on see feel great warmed up hearts beating, you know, we're gonna start off with, obviously, the ending weight what you just did for your last set of five on your mid pulls. And we're going to go ahead, take your five rep max where you're at for your deadlifts, we want to hit that max at your third set. So you're gonna have your max weight for high pulls, which is your starting weight for your deadlifts, you're going to go ahead and split the difference between that starting weight and your max set for your second set. Okay, it's making sense taking notes. This is good stuff, man. This is, you know, people pay me 1000s and 1000s of dollars to teach them this stuff. So this is a nugget that I'm giving to you right now. All right, so write it down. So third set is your max weight. All right, so you're dead lifting with your max weight for five. Be like Brent, I got two more sets left, you're right, you do. Alright. So same thing, broad jumping in between that every single time five reps. Now then, on your fourth set, we're going up. So goal is to always get five. But three to five is a grid range, never less than two. So if you're at two, then you're kind of at that point where you shouldn't be going up. Alright, but you want to go up every single time. All right. So deadlifting, like I showed you, it's the same grip for your mid pull, you got to know how to deadlift properly, a lot of times people will use wrist wraps. So I can do a whole video on technique for wrist straps if you need it. I prefer the over under grip, which means you're going to take that grip over under, but you want to make sure your back is nice and tall. Okay, so your backs tall, sitting that butt down. You're literally dragging this bar right up and down your chin, get a good focal point on that wall. That butts down driving through your heels. Okay. So you're obviously don't want to be maxing out if you cannot deadlift properly. No point in hurting yourself. So, five good repetitions till you get to your last two sets, shoot for five, but at least get two and three. All right, shooting for three always shoot for five. So broad jumps in between. Oh man, what if you only get two deadlifts in then guess what? You're still doing five broad jumps. Alright, I came out of it. The last exercise. So now here when we starting at your max weight that you just got to for your deadlifts, and now we're getting super freakin heavy. All right. These are called rack pulls. So the bars on the rack, I always put it out like right about where my knees are, and you're squatting down. And you're just getting that
Top half part, squat and back down sitting right back on the rack. Okay, if you miss dropped away, if you don't have something that can, you know, hold that much weight, such as a rack, he could put like a number of plates underneath both sides, getting you that height where you know, it's at your knees, and you're just getting maybe three to five inches in and getting that you know, solid pull. So why are you going up if your max deadlift is X number of pounds, and you're still increasing the weight as much as you can, because your goal with this small movement, it's not a big movement. And a lot of times where people get injured in their deadlift is from the floor, you know, to that first half point. So this is taking a lot of that injury prevention out because you're going on to a top half rack or rack pull. So you're hitting a very strong point and there before you're able to take it to the next level, but it also helps your back, get used to holding more weight, it gets your grip used to holding more weight than you can deadlift, it's getting a lot of your body used to carrying a bigger load. So therefore, when it gets down and dirty, you know you're slapping on that deadlift, weight, you know, like shoo. It's unbelievable. Like people are always mind blown, like, oh my god, I just freakin added like 20, 30 pounds on, I just added 30, 50 pounds on. Like, it's honestly, it's like when you're doing this, you're just whoo. All right. So those are the exercises that you're going to be doing. To get to that point, I really hope that you guys understood this, and made sense. If you got questions, pop them down in the comments, I'd love to obviously give you some feedback. And also, just so you know, you know, this is this is what I do. Now I'm a strength coach, specifically, I love it. I love working modifications. I love helping people get beyond their plateaus, like teaching their strategies to everything and how you pair exercises together, and how you do certain things to get the most out of it. Because at the end of the day, if you're just treading water and going through exercises, you know, it gets boring. And then you get bored and you want to stop and it's just this whole spiral of stuff. So there's always good goals to set and there's good things to hit and to reach for and say you've accomplished. So, all right, Brent Kasmer BKPT, Brent Kasmer Personal Training, make sure you like subscribe and smash that notification bell and show me some love, give me some likes and I will see you in the next video.