Tools to Help You Rock Your Body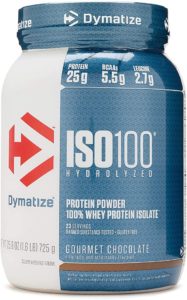 Dymatize ISO 100 Hydrolyzed Whey Protein Isolate – Gourmet Chocolate 1.6 lbs
Take Your Performance To The Next Level With Iso?100.
You Expect Only The Best From Yourself And Your Nutrition. Dymatize Iso?100 Is One Of The Most Advanced And Effective Proteins Available And Was Developed To Give You 100% Of What You Need To Support Muscle Growth And Achieve Your Ambitions.
The Fastest-Acting Protein. Iso?100 Provides 25 Grams Of Super-Fast Absorbing 100% Whey Protein Isolate And Has Been Hydrolyzed For Even Faster Absorption And Digestion. It Delivers Quick Amino Acid Replenishment Which Is Perfect First Thing In The Morning Or After Intense Training To Speed Your Recovery. Each Serving Of Iso?100 Has 5.5 Grams Of Bcaas Including 2.7 Grams Of L-Leucine, The Bcaa That Is Directly Involved In Optimizing Muscle Protein Synthesis To Ensure Your Workouts Are Not Going
The Highest Level Of Purity. Iso?100 Uses Only Whey Proteins Derived From Cross-Flow Microfiltration Processing (Cold-Filtered) To Preserve The Many Important Whey Protein Fractions Including Lactoferrin And Immunoglobins, Which Can Be Lost In Other Forms Of Processing. We Have Carefully Formulated Iso?100 To Deliver More Of What You Want, And Less Of What You Don??T Want: Free Of Gluten And Lactose, And Less Than One Gram Of Fat. With Only A Short List Of Ingredients, It Is Easy To See Why Iso?
Delicious Taste. Dymatize Has Taken Flavor To A Whole New Level! Our In-House Flavor Specialists Worked Long And Hard To Create An Even More Delicious Taste. Iso?100, The Reward You Deserve For All Your Hard Work And Dedication. So Delightfully Delicious, You Will Look Forward To The Next Shake.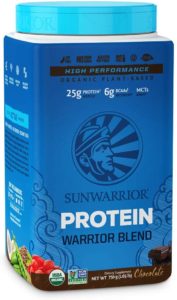 SUNWARRIOR PROTEIN POWDER
Sunwarrior – Warrior Blend, Plant Based, Raw Vegan Protein Powder with Peas & Hemp, Mocha, 30 Servings, 26.4 Ounce
UNLOCK THE WARRIOR WITHIN: Perfect for anyone who wants to amplify fitness levels or build muscle
RICH PROTEIN SOURCES: Legumes, hemp seeds, and goji berries plus MCTs from coconut to fuel your active life
FEARLESS FREEDOM: Free of soy, dairy, GMOs, sugar, and gluten, plus it's raw, certified organic, and vegan
EASY PREP: Shake up with your favorite beverage or get fancy and blend with fruit, greens, ice, boosters, and more
NO MORE SCOOP DIGGING: Giving the gift of time and convenience, our scoop is built into the lid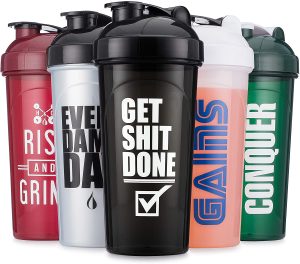 Hydra Cup – 5 Pack, OG Shaker Bottles 24oz Max Value Pack Shaker Cups, Stand Out Colors & Logos (5 Pack, OG Shaker Pack) (OG Shakers, 5 Pack)
5 Pack Variety Single Chamber Shaker Bottles – Fresh line up of 5 different colors and logos brought to you by Hydra Cup.
24oz shaker cups – BPA Free, Dishwasher safe, Spiral Mixers, High Quality Printing
Mixers Included with every shaker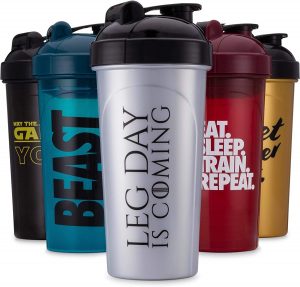 Leg Day is Coming in Front
Hydra Cup – 5 Pack, OG Shaker Bottles 24oz Max Value Pack Shaker Cups, Stand Out Colors & Logos (5 Pack, OG Shaker Pack) (OG Shakers, 5 Pack)
5 Pack Variety Single Chamber Shaker Bottles – Fresh line up of 5 different colors and logos brought to you by Hydra Cup.
24oz shaker cups – BPA Free, Dishwasher safe, Spiral Mixers, High Quality Printing
Mixers Included with every shaker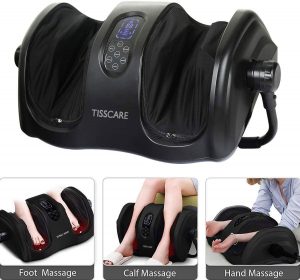 FOOT, CALF & FOREARM MASSAGER
TISSCARE Foot Massager Machine with Heat,Deep-Kneading for Foot Calf Leg Arm, Plantar Fasciitis, Chronic Nerve Pain, Tired Muscles w/Adjustable bar
RELIEF & ADJUSTABLE COMFORT: Deep kneading calf foot massager with unique convex-concave shape relieves foot/calf/leg/arm pain or stiffness at the optimum comfort angle after working or standing all day, and features an easy adjustable bar.
WARNING – Foot or calf area is 5″. We encourage you to use the lowest setting initially. Some person may feel slight soreness after an initial massage after the first few uses. This is normal to achieve physical therapy, and is how you know it is working.
FOOT MASSAGER WITH HEAT & TIMER: Slowly heat to protect your foot, please be patient! It is equipped with timer function, programmed with 15minutes auto shut-off to ensure safety (NO remote control). Adjust up to 30 minutes if you need.
AUTOMATIC & MANUAL CONTROL- Equipped with Automatic & Manual Control. In default Automatic control, there is 3 modes can be chosen. 3 modes just with backward and forward massage conversion in different time are similar. NOTE: In Automatic control, Speed- or Speed + and Direction button don't work by default. Please switch to Manual control by pressing Manual button, all buttons can work. In Manual control, there are 3 speeds and direction that can be adjusted manually.
HYGIENIC DETACHABLE FOOT COVER: As the foot cover can be detachable & washable, the design makes the reflexology foot massagers more convenient to keep it clean all the time. The best Thanksgiving Day & Christmas gift for parents, friends or lovers. You can report any problem to us and we are proud to offer a 100% hassle-free warranty.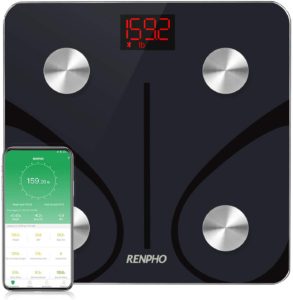 BODYFAT & WEIGHT LOSS SCALE
RENPHO Bluetooth Body Fat Scale, Digital Weight Scale Bathroom Smart Body Composition Analyzer Wireless BMI Scale Health Monitor with Smartphone APP, 396 lbs
SMART APP SYNCS WITH FITNESS APPS. Over 3 million happy global users. Easy setup app syncs with Samsung Health, Fitbit, Apple Health, and Google Fit, offers Apple Watch App. RENPHO App helps you to set goals, save historical data and track your daily, weekly, and monthly progress.
13 ESSENTIAL MEASUREMENTS. The RENPHO app measures weight, Body Fat, BMI, Muscle Mass, Bone Mass, and more. It displays graphs that track progress in these various metrics. You can weigh anytime WITHOUT turning on the APP. The data will sync to the app once it is connected again.
BLUETOOTH CONNECTIVITY. Download the user friendly RENPHO APP through the App Store or Google Play and connect via Bluetooth 4.0 or above version. The APP only takes up 20 MB of storage.
ONE SCALE FOR THE WHOLE FAMILY. The RENPHO Body Scale allows you to track your whole family's weight and health information through multiple accounts or profiles. Monitor your family's health and start a healthy lifestyle. You can also share your progress with your family and friends on social media for friendly competition.
Renpho weight scale is a body composition analyzer with hardness tempered glass, 4 sensitive electrodes, including 3 x AAA batteries and can be auto calibration. CE FCC ROHS Certificated.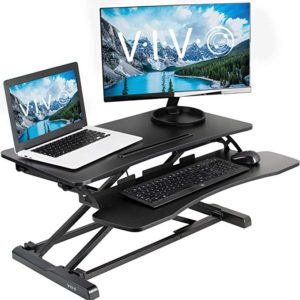 VIVO Black Height Adjustable 32 inch Standing Desk Converter | Sit Stand Dual Monitor and Laptop Riser Workstation (DESK-V000K)
CREATE INSTANT ACTIVE STANDING – VIVO's desk riser provides on-demand standing throughout the day for the freedom to get out of your chair and relieve muscle tension, reduce stress, and increase productivity.
SPACE EFFICIENT 31.5″ SURFACE – The top surface measures 31.5" x 15.7", which maximizes space while still providing room for dual monitors. The 31.3″ x 11.8″ keyboard tray raises in sync with the top surface to create a comfortable workstation.
STRONG 33 LBS LIFT ASSIST – Go from sitting to standing in one smooth motion using the innovative simple touch height locking mechanism (Adjustment Range: 4.2″ to 19.7″). Lift design elevates straight upwards.
VERY MINIMAL ASSEMBLY – This riser is almost ready to go right out of the box! Place on your existing desk, attach the keyboard tray, and start organizing your workstation.
WE'VE GOT YOU COVERED – Sturdy, high-grade steel design is backed with a 3-Year Manufacturer Warranty and friendly tech support to help with any questions or concerns.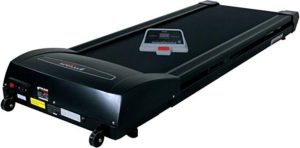 Titan Fitness Under Desk Walking Treadmill
WORK OUT WHILE YOU WORK: Sitting at a desk all day can wreak havoc on your health and fitness goals. Fortunately, there's a simple solution: stop sitting and start walking! With our miniature treadmill, you can get your steps in while working. This treadmill goes up to 4 mph, so you can walk to your heart's content. This is multitasking at its finest.
GREAT FOR STANDING DESKS: With this treadmill, you can have the best of both worlds! It's compatible with standing desks, so you can stay active all day long. Type at your computer, make phone calls, and hold business meetings as you walk. Jump-start your fitness goals by purchasing this treadmill today.
CONVENIENT CONSOLE: This treadmill comes with a handy console that fits nicely on your desktop. It allows you to adjust and track your speed. The console records your overall time, steps taken, and how many laps you've walked. It also estimates how many calories you've lost while walking at your desk.
SAFETY FEATURES: Working out is about improving your body, not hurting it! At Titan Fitness, we take safety seriously. That's why this treadmill system comes with a safety key that you can clip onto your shirt. Once the key is disengaged from the console, it automatically shuts off the treadmill, preventing injury.
DIMENSIONS: This compact and lightweight treadmill weighs approximately 114 lbs. It measures at 65" L x 25" W x 8" H, making it the perfect size for storing under your desk. The belt has a length of 53" and a width of 18". The treadmill has a walking platform height of 6". This small treadmill can support a weight capacity of up to 250 lbs.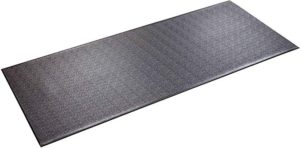 PROTECTIVE FLOOR MAT (for Under Workout Equipment)
SuperMats Heavy Duty Equipment Mat 30GS Made in U.S.A. for Treadmills Ellipticals Rowing Machines Recumbent Bikes and Exercise Equipment (2.5-Feet x 6-Feet) (30″ x 72″) (76.20 cm x 182.88 cm)
PROTECTIVE FLOOR MAT: Super-tough, durable mat helps protect your floors and carpets from the damaging effects of heavy exercise equipment and debris from mechanical parts
CUSHIONS EXERCISE EQUIPMENT FROM EXCESSIVE WEAR: Prolongs the life of your equipment by helping prevent floor and carpet dust from entering belts and mechanical parts
FITS MULTIPLE EXERCISE UNITS: The Supermats Treadmat is perfect for treadmills, ellipticals, recumbent bikes, and cross-country trainers – Mat measures 30″ x 72″
DAMPENS VIBRATION: Helps prevent excessive wear and tear to equipment and muffles equipment noises so family and neighbors are not disturbed
MADE IN U.S.A.: Made in U.S.A. using U.S.A. sourced raw materials. No harmful chemicals or heavy metals. Safe for children and pets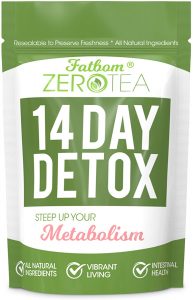 Zero Tea 14 Day Detox Tea, Weight Loss Tea, Teatox Herbal Tea for Cleanse
ZeroTea helps the body by charging the metabolism- promoting proper digestion, and aiding in the optimization of the digestive tract. ZeroTea's ingredients are designed to stimulate the body's ability to process excess fats, stimulate blood circulation, and provides essential antioxidants, vitamins, and minerals
Detox cleanse and metabolism booster- Our 14 and 28 day detox aids your body in cleansing and purifying itself of toxins and waste; boosts your metabolism and energy level, helps get rid of excess water, and reduces stress while still tasting great. Zero Tea consists of only the finest organic green tea, spices and herbs.
A better way to cleanse- Our blend doesn't include the natural laxative Senna Leaf. Zerotea is a gentle detox that supports the positive bacteria in the gut; aiding the body in attaining an optimized efficiently running metabolic process.
Reduce bloating- Zerotea aids in your body's digestion, helping to relieve excessive bloating by feeding the good bacteria in your gut so that they can do there job properly.
Anti-inflammatory ingredients- Sluggish bowels are often due to an overgrowth of bacteria or Candida albicans that produce toxic metabolites slowing down processing through the colon. Many of the ingredients in Zerotea help keep elements in the colon at healthy levels.